Design Assembly – Meet our friends, Onfire Design
'Meet our Friends' series is where we take a moment to celebrate and share a little about the diverse studios who make up our DA Friends.
Working towards happiness in everything they do, our friends Onfire Design give us a peak into their studio team, culture, and design philosophy.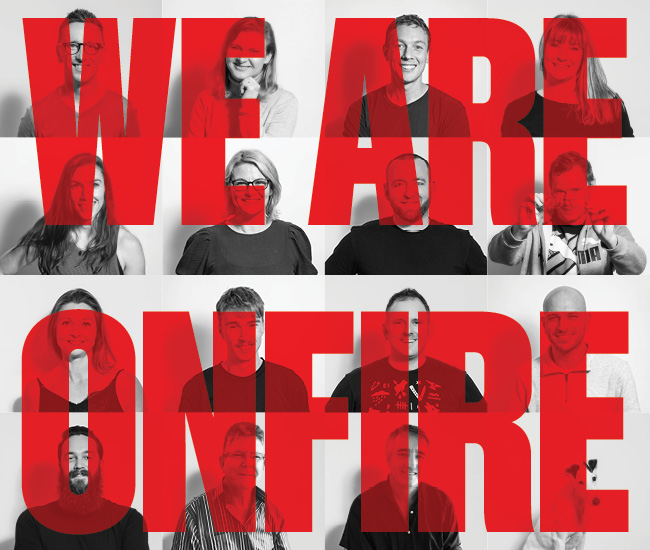 Where are you based and what shape does the Onfire team take?
Onfire Design is lucky to be based in Takapuna just a few minutes from the beach…great for a summer swim at lunchtime! The office is just ten minutes from the CBD and being in Takapuna it means all the team have parking available so things like kids school drops offs are possible. The Onfire team, or 'Firestarters' as we like to call ourselves, is fifteen strong. Onfire's founder, Sam Allan, likes to have a family atmosphere so the team is purposely compact. We're very creatively focused so the company is heavily weighted with designers.
Can you share with us what a typical day at the Onfire studio looks like?
Hmmm…Onfire is not a stuffy design agency, Matt and Sammo, our Creative Directors, are outgoing and noisy so the whole atmosphere is upbeat and friendly. They like to have a laugh (or two) on a daily basis! We quite often have freelancers commenting how welcoming the studio is. The company has always had a good retention of people and clients so that says a lot about how Onfire operates.
Sammo has been known to draw over his body with a sharpie marker, or cellotape phones to his face. You get the idea!
The Onfire staff is multicultural, we have people from Australia, UK, Argentina, South Africa and New Zealand! It's really great as we draw upon each others experience of different cultures and ways of doing things…plus we get to learn a few swear words in another language!
What projects have you been working on recently?
We've just finished a year long project with a massive Saudi Arabian poultry company. This was an exciting project as the scale was so much bigger than anything you'd do in New Zealand. We had to learn about Saudi culture, art, arabic calligraphy and a different way of working. Having meetings until late in the evening had its challenges! We've also been super busy launching new brands in the marine tech sector and FMCG.
What does the Onfire design process and philosophy look like?
Mark Twain wrote "It's not the size of the dog in the fight, it's the size of the fight in the dog". We live this every day. We believe you don't have to be a big agency to have big ideas.
In fact, our mascot is a Fox Terrier dog. A breed that is well known for its small stature, but big personality and energy.
Being creatively led, creativity is king at Onfire. Every project we do, we look to create a portfolio project, backed up by strong strategy and research. If we can use the best typographers or artists from around the world, even if it costs us money, we do it. In the FMCG space we like to zig while the others zag, lots of the work we do breaks tradition and gets cut through. This is really important in a super competitive space like the supermarket. Our brands need to stand out on shelf.
Favourite tools your studio couldn't live without?
Matt will say Coffee Machine. Lisa will say timesheets! But jokes aside, an agency is only as good as it's people, they are the agencies 'tools' to create our craft – they are the ones that make Onfire, on fire! We couldn't do without our people.
What recent achievements or projects are you most proud of?
Five years ago we set out to make a charge into the FMCG space and win a few awards. Today Onfire are working with some of the biggest producers in New Zealand, attracting work from around the globe, and have won numerous awards across different categories in Australia, Europe, USA, UK and Asia. On a business level, we are very proud to have made some major financial changes to our clients business outcomes. It's all very well winning awards, but the work has to really drive results and sales.
Where to next for Onfire, what is your team working towards for 2023?
The last few years have been challenging getting a good work/life balance. Over the Covid lockdowns we were exceptionally busy while others were having Zoom booze parties! And then the floods and cyclone meant we were without power for some time. This meant we had to catch up! So we are working towards happiness in everything we do – more vitamin D, more overseas travel, and we'd love to win a D&AD pencil, Matt would retire a happy man.
Any advice your studio can share to those just embarking on their creative career journeys?
Curiosity, passion and enthusiasm are essential, by persevering you get better and better. Networking is important, meeting new people and hearing about new and different ideas is very useful. You may listen to a talk and a year later have a scenario where you're able to apply that knowledge…and appear like the smartest person in the room!
Don't be afraid to pick up the phone and talk to people, ask them for a job, ask them advice. You don't get, if you don't ask.
There are so many things to learn in design, not just skills as a designer, but business acumen and about your clients businesses. This can be a fascinating journey and you get very good at talking about lots of different topics!